HOUSES
Single-family homes
Designed for optimal comfort and space, our single-family homes are perfect for families, couples and professionals alike. These homes are ideal for anyone seeking peace and privacy, and let you take full advantage of the tranquility of our residential projects.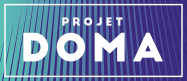 Projet DOMA is everything you want for your family: a beautiful home in a unique neighbourhood in Terrebonne. We've thought of everything to make this a pleasant place to live.
Semi-detached homes
Our semi-detached homes are a cut above, boasting superior construction and excellent value.
Townhomes
Designed to maximize privacy and comfort, our townhomes enable you to become a homeowner and to enjoy your own space for a fraction of the price of a single-family home.
Living in Terrebonne is now within reach! Our beautiful townhomes have everything you need and are located in a vibrant neighbourhood with the full range of services nearby.
CONDOS
Our modern and inviting condos were designed to promote the well-being of residents seeking comfort and an urban vibe, at a fraction of the cost of a house.

Have you had enough of traffic? Mathieu Group knows exactly how you feel. Our Trois 2 Cinq rental condos in Montreal are the perfect solution.