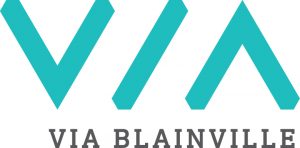 855, Curé-Labelle blvd,
Blainville (Québec) J7C 2L1
Monday to Wednesday: 2 pm – 7 pm
Thursday and Friday: By appointment
Saturday and Sunday: 12 pm – 4 pm
THE PROJECT
Located in Blainville, on the North Shore of Montreal, this project offers easy access to a variety of transportation networks in the area.
Halfway between the action of an urban area and the peace and quiet of a natural environment, you will appreciate its exceptional location.  The condos of VIA Blainville  are located near the train station, Autoroute 15 and a bicycle path.  In addition, they are within walking distance of all essential services and a number of other amenities. The condos of VIA Blainville have been designed for active people looking for a home that reflects their dynamic lifestyle.
NEW IN 2019: A new phase with six buildings containing six approximately 1,250 sq. ft units (5 1Ž2) is now for sale. We are looking for investors to acquire one or more of these buildings.
THE NEIGHBORHOOD Choosing to live in VIA Blainville means a lifestyle where using your car is plan-B. In addition to being situated right by the train station, these condos are mere steps away from the Lower Laurentian Linear Park, which links to P'tit Train du Nord – a terrific plus for cyclists and cross-country ski enthusiasts! VIA Blainville makes it easy to stay active all year long. In spite of its prime location, VIA Blainville offers a quiet, peaceful lifestyle suitable for families, couples and singles who wish to combine urban convenience with the beauty of a natural environment.
THE NEIGHBORHOOD

SERVICES As the name suggests, VIA Blainville condominiums offer residents an easy commute to Laval and Montreal. A few minutes' walk to the Blainville Train Station means you can leave your car at home. Groceries, drug store and other amenities to help with daily errands are just a ten-minute walk away. Curé-Labelle Boulevard also boasts a wide variety of services and restaurants for your enjoyment and convenience.
SERVICES

NEED INFORMATION
ABOUT THIS PROJECT?
Bernard McHugh
514 212-9837